This Meeting's Highlights
Program: The Vision Behind the Human Trafficking Film "SOLD"
Speaker: Jeffrey Brown, Director of the "SOLD" Film
Meeting for the week of August 29, 2016 to September 4, 2016
Is this your first time to visit us? If so, welcome to our weekly online meeting! To complete our meeting, please continue reading from here to the bottom of this page. 
Each Monday our week's meeting is posted early in the morning, U.S. Pacific Time. These meetings are designed so that you can read and watch what we post anytime during the week. The entire meeting takes about 60 minutes to complete, with the video conference recording of the program being the bulk of the time.
Note that you can easily read this meeting with your favorite device, so feel free to take our meeting on the go with you; read it while on public transit, waiting in line for coffee, or even at the park! Please also make sure to complete the attendance form at the bottom and leave a comment. Enjoy!
---
Welcome to the Rotary eClub of Silicon Valley!

Message from President Mitty
Awareness & Conferences/Conventions.
Hello and welcome! My name is Mitty and I am the president of this Rotary club! Every week we bring to you a program designed to inspire you, to intrigue you, to educate you, and to empower you to do more. We are proud to be one of the premier online Rotary clubs in the world, with weekly online meetings and in-person events in the Silicon Valley.
This week we have a powerful guest speaker talking about an incredible film, and an important cause that needs more awareness. We will get to our guest speaker's introduction and his program shortly. But before you continue scrolling, I want to talk to you about Rotary conferences and conventions.
One of the benefits of being a Rotarian (member in Rotary) is the incredible networking and friendship opportunities that you experience at a Rotary conference or a Rotary convention. As summer ends and fall begins, we begin again a period of time (Fall season) where many Rotary conferences are concentrated. I encourage each of our members and our guests to consider attending a Rotary District Conference or District Event in their area. Our own home district (District 5170) in the Silicon Valley hosts an annual fall conference and an annual spring conference. The fall conference is called Avenues of Service, and is meant to showcase different service projects and opportunities. It's an amazing chance to meet Rotarians throughout the Silicon Valley, and to really build friendships. Our spring conference will be held on the Boardwalk during the first weekend of May in Santa Cruz, California.
For our international members and guests, attending one of our district events in the Silicon Valley can be difficult. For those of you who have trouble making it out to these events, consider making it out to the biggest and arguably the funnest international Rotary event every year: the Rotary International Convention in Atlanta, Georgia, USA happening June 8-13, 2017. Every year Rotary puts together a massive international convention and it changes location every year. This past year it was in Seoul, South Korea and over 44,000 Rotarians and guests attended this convention. That's a LOT of like-minded people in the same place! Enough to start our own small town.
I have personally been to 9 of these Rotary International Conventions now. I can say without a doubt in my mind that I look forward to the conventions every year, and that they have been the best networking and friendship-building opportunities I have ever experienced. There is nothing that comes remotely close to the experience you get at a Rotary International Convention. We will definitely have a Rotary eClub of Silicon Valley dinner in Atlanta, so see if you can make it there! The dinner will be open to members and friends.
This won't be the last time you hear of the convention! If it is at all possible for you to make this happen, start thinking about it.
And for our Guests: We are so happy to have you join one of our online meetings! Whether you are a visiting Rotarian, prospective member, friend of a friend, or just someone stopping by — our goal is to make sure you're getting some inspiration out of this meeting. As you continue scrolling and reading through our meeting, please leave a comment at the bottom of the meeting once you're done. We would love to hear from you! You can tell us things like where you're from and what you thought of the meeting! You can also ask the speaker a question in the comments section.
Yours in service,


Mitty Chang, President
Rotary eClub of Silicon Valley
[email protected]
---
Power of Images: Moving Together in Water
We believe in that saying a photo is worth a thousand words. Great images can inspire people and can conjure a wide range of emotions.
This week we feature a photo taken by photographer 
About this photo: People swim during the annual public Lake Zurich crossing swimming event over a distance of 1,500 meters in Zurich, Switzerland. Photo by Arnd Wiegmann / Reuters
That's a lot of people swimming at the same time! You could almost call it.. a school of swimmers!
---
Laughing Out Loud with our Lady of LOLs
We believe that laughing a little every day keeps you healthier. Every week we try to share with you something that will make you smile! This section is curated by Rotarian Yvonne Kwan, our club's "Lady of LOLs."
Hey! This is Yvonne, your Lady of LOLs. This week's jokes are back-to-school themed since it's that time of the year again. Whether or not you're a teacher going back to school, or have friends going back to school, or have kids or grandkids going back to school — here are some fun school related jokes for you!
Why is a math book always unhappy?
Because it's full of problems!
What do you call a music teacher with problems?
A trebled man!
Why was the broom late to school?
Because it overswept!
---
Weekly Inspiration: Feel the Beat – Dancing While Deaf
Every week we bring you videos of innovation, inspiration, and entrepreneurship. This week we are featuring a video from Great Big Story on an inspirational piece called Dancing While Deaf.
It's inspirational to see what people are capable of despite obstacles in their way.
---
New Member Introduction: Brett Sham
Our club is a family of like-minded individuals who believe in service above self, and love bettering our local and our international communities through humanitarian service. We also just have a really cool bunch of people! This segment is dedicated to our newest members and meeting them. This week we are welcoming our newest member: Brett Sham!
Members and guests, President Mitty here!
It is my pleasure and my personal privilege to officially induct Brett Sham as our newest member of the Rotary eClub of Silicon Valley!
Brett works as a Management Consultant for professional services giant PricewaterhouseCoopers. Brett lives in Sydney, Australia and is often on the go visiting clients. Brett was formerly a member of the Rotaract Club of Lower North Shore in Rotary District 9685, prior to becoming a Rotaract alumnus. Having been part of the Rotary family since 2011, Brett has served as Rotaract Australia MDIO's Treasurer, District Rotaract Representative, Rotaract Club President, International RYLA Facilitator, RYLA Facilitator, and is a Paul Harris Fellow. 
Brett also has a strong passion for working with youth, and is most interested in Rotary's focus in education and economic development. Brett would love to get more involved with an international project through the club.
I met Brett four years ago in 2012 at the Rotary International Convention in Bangkok, Thailand. Since then, we have seen each other annually at the Rotaract Preconventions and the Rotary International Conventions. What Brett's application didn't reveal was how much of a huge foodie he is. It's been my honor to get to know Brett over the past few years, and I'm thrilled to have someone as committed to Rotary and service to humanity as he is join our family. 
But you don't need to take my word for it. Here's Brett in his own introduction video message:
Brett, welcome to the Rotary eClub of Silicon Valley!


You are now part of an international family of over 1.2 million leaders who believe in taking action to make our local communities and our international world a better place. In Rotary we cure the sick, cloth the poor, feed the hungry, provide shelter for the homeless, education for the uneducated, and so much more. We are so glad to have you part of our family!
Members and guests, please join me in welcoming our newest member, Rotarian Brett Sham!
---
World of Rotary: Rotary Structure & Acronyms
The world of Rotary is vast — spanning over 180 countries in the world with over 1.2 million members. Our club is only one of thousands of Rotary clubs, each one that meets in a different place and at a different time. This segment of our meeting brings to you a little bit about what is going on in the world of Rotary this week.
This week we're going to do a short focus piece on Rotary acronyms and Rotary infrastructure.
The Rotary world is structured as such: Clubs belong to a District, Districts belong to a Zone, Zones belong to Rotary International. All clubs belong to a Rotary District. These Rotary Districts are much like political boundaries, and drawn based on the population of Rotary members. Some districts are compact and span only one county, whereas some districts span multiple countries. All districts belong to a specific Rotary Zone. These are regional entities for Rotary, and often include 20 or more separate Rotary districts. Every two Rotary Zones is led by a Rotary International Director who sits on the Rotary International Board of Directors. (Rotary International Directors hold two-year terms in office.) All of Rotary Clubs, Districts, and Zones belong to the greater Rotary International umbrella.
Our official Rotary International headquarters are in Evanston, Illinois (a suburb of Chicago). You can visit the Rotary International headquarters Monday through Friday during regular business hours. (See the birthplace of Rotary! It's a cool tour! EClub members, reach out to President Mitty first if you're going — and we'll see if we can arrange you a special tour.) Rotary International also has offices throughout the world, including Switzerland, India, Japan, Korea, Australia, Brazil, Argentina, and Great Britain. Over 500 employees work full-time for Rotary International at the main headquarters in Evanston, Illinois, USA. All Rotary operations are paid for by Rotary membership dues. What you may not know is that approximately $65 USD every year of your membership dues goes directly to Rotary International.
Rotary International is a complicated organization and still exists as a membership organization. That means that while the Rotary International President and the Rotary International Board of Directors has a lot of say in providing the direction and the goals of the organization, the most important decisions ultimately are still decided by the Rotary membership and our representatives. Every three years, Rotary convenes a Council of Legislation. This is the international legislative body of Rotary International. Think of it like our Congress. Every district is given one voting delegate (that's about 536 districts or voting delegates in the world). These voting delegates decide changes to the organization. The power ultimately remains in the hands of the members.
Some Rotary acronyms to know:
DG, DGE, DGN, DGND, and PDG: District Governor, District Governor-elect, District Governor-nominee, District Governor-Nominee-designate, Past District Governor, respectively. As outlined before, all districts are led by a Rotary District Governor. This is the highest officer position within a Rotary district. District Governors are chosen three years in advance. Next year's Rotary District Governor is called the District Governor-elect (DGE). The District Governor who will serve in two years is called the District Governor-nominee (DGN). The District Governor who will serve in three years is called the District Governor-Nominee-designate (DGND). All Past District Governors (PDGs) are often recognized at official Rotary functions.
RIP, RIPE: Rotary International President, Rotary International President-elect. Quite possibly some of the worst acronyms we have, these acronyms are for the highest officer positions in Rotary International world.
RYLA, RYE, GSE, VTT: Rotary Youth Leadership Awards, Rotary Youth Exchange, Group Study Exchange, Vocational Training Trip. These are all different Rotary programs. RYLA is a leadership camp for young leaders (often ages 12 to 18 in the states, or else ages 19 to 29 outside of the United States) that usually lasts multiple days. Rotary Youth Exchange is for high school students and offers a multi-week or 1 year school exchange program to another country, where the exchange student is hosted by a Rotary district and Rotarians. Group Study Exchange (now discontinued) and Vocational Training Trips are similar, and offer a Rotary opportunity to work abroad for several weeks either on a specific project or with specific companies in your field.
And now you know! We'll have more Rotary facts and lessons coming to you soon. One important fact to know is that Rotary International was founded by Paul Harris on 
February 23, 1905.
---
Our Events & Projects
We hold our meetings online, but we hold regular service projects and social events in the Silicon Valley every month! This section is updated every week with our upcoming events. We welcome guests to all of our events and service projects listed here.
Also be sure to join our Meetup Group for automatic calendar updates and to RSVP for our events! These are open to all guests as well!
All events are marked in Pacific Time and are located in the San Francisco bay area / Silicon Valley.
Upcoming Events:
Half Moon Bay Habitat Restoration Service Project – Sat. September 10
On Saturday, September 10 from 10 AM – 1 PM – Half Moon Bay It's been a cool summer around here so what better way to enjoy the weather than to go outdoors and help improve the habitat for local birds and plants? We'll be fending off invasive species and planting more native plants. We will also likely grab lunch after and maybe even enjoy the beach while we're there. If you're interested, please contact Andrew at [email protected]
If you'd like more details, you can find it here: https://www.handsonbayarea.org/HOC__Volunteer_Opportunity_Details_Page?id=a0a3200000DEcGtAAL
REGISTER/RSVP: RSVP on our meetup page by clicking here.
Hiking Social at the Alamere Falls – Sun. September 18 in the Point Reyes National Seashore, California
On Saturday, September 18 our club will be making a hiking trip to the Alamere Falls inside the Point Reyes National Seashore! Members and guests are welcome! We will be beginning our hike at 9:30 AM and will be getting lunch together afterwards. Please plan on arriving to the parking lot by 9:15 AM. Driving instructions will be provided a week before this event.
REGISTER/RSVP: RSVP on our meetup page by clicking here.
Ed Fund Gala Service Project – Sat. October 1 at Oakland Scottish Rite Center, Oakland, California
Ed Fund Gala Oct 1, 2016 4:30pm – 10:00pm Oakland Help us volunteer as event staff for a fundraiser for the A-Z Fund, a program that provides resources to schools in Oakland that don't have strong PTAs to fund programs like music or sports. Duties may include help with registration and auction spotting. If you're interested, please email Andrew at [email protected] please check out the link: http://www.oaklandedfund.org/gala/
REGISTER/RSVP: RSVP on our meetup page by clicking here.
---
For Our Members: Reminders & Benefits
This section is dedicated for reminders to our members and for our members to report to us what service projects they have participated in recently. Members, please note this section will CHANGE every week!
New Announcements:
Member Education & Networking Coming!
Hey Members! Part of being in the Rotary family is learning more about the vast network of Rotary, as well as the different programs and initiatives available through Rotary. The leadership team is working on developing a short series of educational articles and videos that will help explain more about Rotary to each of you. We also know that a big part of Rotary is the networking and the new friendships you make from connecting with fellow Rotarians. We are working on new ways to better foster that experience for each of you. Look forward to the release of these pieces in the program next week! If you have suggestions, please email [email protected]
Summary of Recent Announcements
Tracking Service Hours
Hello awesome member! Have you been up to service lately? Please share what you've been up to, as it allows us to get to know each other better in the process!
The Rotary eClub of Silicon Valley Service Survey
---
Happy Dollars
Each week we ask our members to share news with the club and toss in a few dollars to support our efforts. The primary goal for this section is to provide a fun way of getting to know each other, while giving back to a good cause.
Last week the happy dollars contributions went towards powering our club projects. Here are our contributors from last week and their comments:
From member Rory Olsen ($15):
"Polio plus"
From member Ken Oku ($15):
"As I hope to dedicate my life to do what I can to bring peace, love, and happiness around the world, I would hope to be a part of rotary for the rest of my life. The first step of becoming a member is something I will never forget. Thank you for the honor of being a member and I look forward to serving with you all."
From member Brian Liddicoat ($15):
"Loving HBO's "The Night Of" legal drama. Dark, but worth a look."
From member Nate Gildart ($15):
"This is a shout out to The Tragically Hip, and especially Gord Downie. If you're Canadian, you know why."
From member Linda Tangren ($15):
"Welcome! Kenny."
This week the happy dollars will go towards funding our club projects and initiatives. So go ahead, tell us about something good that's happen to you this week! Think of this like a digital karma jar. All happy dollar submissions will be featured in next week's online meeting — so great for shoutouts and brags!
Visiting Rotarians: If you like what you see, this is a really good chance for you to give a digital shoutout to your club in our next week's meeting, while helping fund some of our projects. Perhaps consider donating an amount similar to what you might have paid for the cost of the meal if you attended a brick and mortar club meeting — or any amount you are comfortable with!
---
Selected Six
Every week at the bottom of our meetings, there is a comments section for members and guests to tell us what they enjoyed about the meeting or to ask questions to the speaker. We select six comments every week from last week's meeting to be featured during this week's meeting.
From member and past president Rushton Hurley (California, USA):
"Brian, I hope your daughter had a great birthday! Kenny, welcome, and Yvonne, thanks for the intro – it's cool to hear from you both! Allen, thanks for getting folks more aware of the min-e-grant program. What an opportunity to connect with others to make great things happen this is. This week I hit the road again, and realized I didn't share a photo of Lusk, the town in Wyoming I visited a few weeks ago. It's the county seat of the most sparsely populated county in the most sparsely populated state in the USA, and it has plenty of charm to it! Here's a photo of a statue about friendship. The plaque for this statue in Lusk reads: 'Buddies' 'A Gift to All Those Who Enjoy Life to the Fullest' In Loving Memory of Jason Hammond 'May This Bring a Smile to Someone Each Day!' Sculpted by Jane DeDecker, 2012 – I smile as I type this!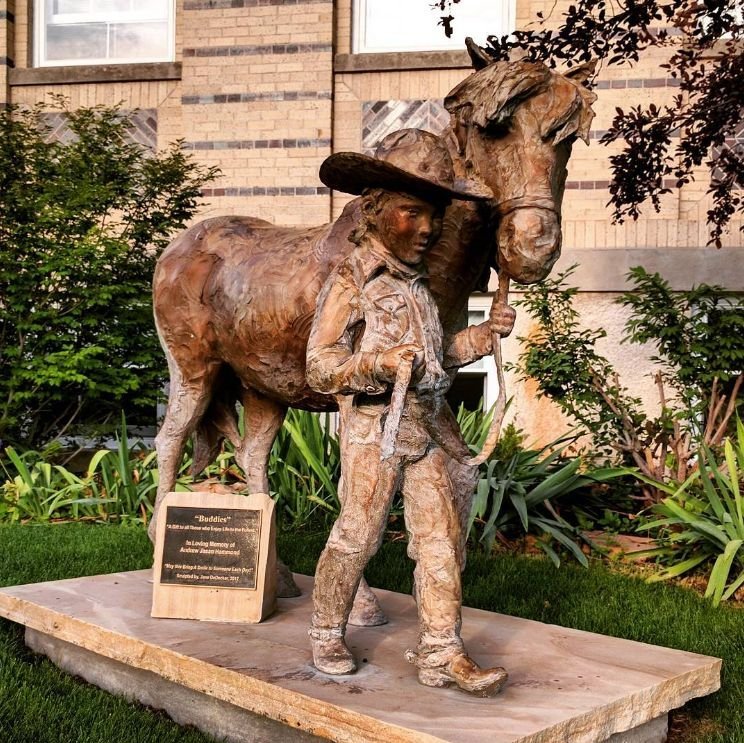 "
From member John Lozano (California, USA):
"Kenny, welcome to the club and thanks for your video. Yvonne, thanks for the video and best of luck with your credential program. Keep in mind, teachers in our club, like me, are always here to help especially when you need to write those lesson plans. Allen, thanks for the information regarding the mini-grant process. I have an idea and hope to reach out to another Rotary club in the Bay Area soon. It is good to know our club is set-up to give a grant. Thanks."
From member Gene Tognetti (California, USA):
"Kenny, Yvonne and Allen, enjoyed learning a little bit more about each of you. And Kenny, welcome!"
From member Heather Shaw (California, USA):
"Great presentation. As you know, I am getting ready for my school drive and will definitely apply for the grant. I will be on the search for another organization to become involved also.  Kenny welcome to the group went to Chiropractic school in MN and loved it there. Enjoy"
From member Raquel D. Juncal (Costa Rica):
"Allen, thanks for the update on Min-E grants. Wait for my proposal 😉 Welcome, Kenny! Yvonne, great knowing you!"
From guest Eric Peterson:
"I'm a guest and am potentially interested in joining this club! I really enjoyed the meeting and how easy it is to attend. My mom's Zonta club does a similar e-club format, and it's been great for getting attendance. Looking forward to more meetings to come! Thanks!"
Thank you everyone for attending last week's meeting!
Be sure to leave a comment at the end of this week's meeting after you watch the program below, and perhaps you'll see your comment featured next week!
---
The Program
Every week we bring to you a program on innovation, education, entrepreneurship, and humanitarian service. This week our guest is Jeffrey D. Brown, the Director and co-writer of the film SOLD. SOLD tells the story of a young girl in India who is trafficked as a sex slave.
Director Jeffrey Brown is an Academy, Emmy and Peabody Award winner. SOLD is his directorial feature film debut.Jeffrey went to NYU film school and was awarded an AFI fellowship to intern with Peter Weir on "Dead Poet Society." He has directed many TV shows: LA Law, The Wonder Years and numerous other shows. Brown co-wrote and co-produced "Pontiac Moon" with Ted Danson and Mary Steenburgen and "Dream with the Fishes" with David Arquette. Now, with SOLD, staring an amazing cast including Gillian Anderson, David Arquette and many award winning actors from India, Brown wants to make a difference in the lives of the many child- trafficking survivors he met in India and Nepal doing research while adapting "Sold" from the Award winning novel by Patricia McCormick.
Related Attachments & Links:
Reach out to Director Jeffrey Brown
If you have any questions for Director Brown, please feel free to leave a comment or question at the bottom of this meeting page.
---
Upcoming Recordings & Meetings
Ever wondered how you can join one of our live recordings to ask our speakers questions live? Well, now our recordings are available to guests as well!
Upcoming Meetings:
Week of September 5 -Phoenix Commotion Recycled Houses with Founder Dan Phillips
Week of September 12 – Remind app with Founder Brett Kopf
Upcoming Recordings:
THIS Week:

On Tuesday, August 30, 2016 at 2:30 PM Pacific we will be recording Dan Phillips, Founder of Phoenix Commotion Recycling. The connection address for this recording will be: https://zoom.us/j/7489282423

Next Week:

 Next week on Tuesday, September 6, 2016 at 2:30 PM Pacific we will be recording Brett Kopf, the Founder of the Remind app. The connection address for this recording will be: https://zoom.us/j/7489282423
---
You're Almost Done! One last thing: The Attendance Survey..
Thanks for reading and watching this week's meeting. You have two last things to do before you're done. First, we have a very short attendance survey below for you to fill out to record your attendance.
Visiting Rotarians, this is how you can get an email receipt to pass along to your club's secretary as proof that you've attended our meeting if you need it for makeups.
Non-Rotarian Guests, we would love to see who is dropping by our meetings! This part is optional for you though. If you think you may want to join our eClub at some point in the future, we would strongly recommend you fill out the attendance form as it will improve your chances of success for your membership application.
More importantly, for all members and guests — we strongly recommend and ask that you leave a comment below in our comments area below. Tell us how you enjoyed the program. Ask this week's speaker any questions you might have. Or just stop by and say hello and tell us where you're from!